About Skippy's Pet Care
Phil & CEO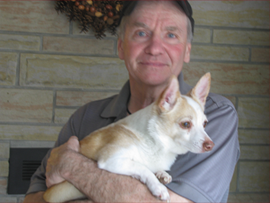 Phil Collen, the owner of Skippy's Pet Care has been an animal lover and pet owner his entire life. He made the decision to professionally care for animals 8 years ago.

Phil not only looks after animals for a living but is also a volunteer at the Hamilton-Burlington SPCA.

It is important to Phil to keep educating himself and he has completed many Animal First Aid Courses, the most recent being the St. John Ambulance Pet First Aid Training in March of 2012. Phil is always upgrading his skills by attending courses and seminars.

Your pets are in good hands with Phil. He always puts your pet's health and safety first.